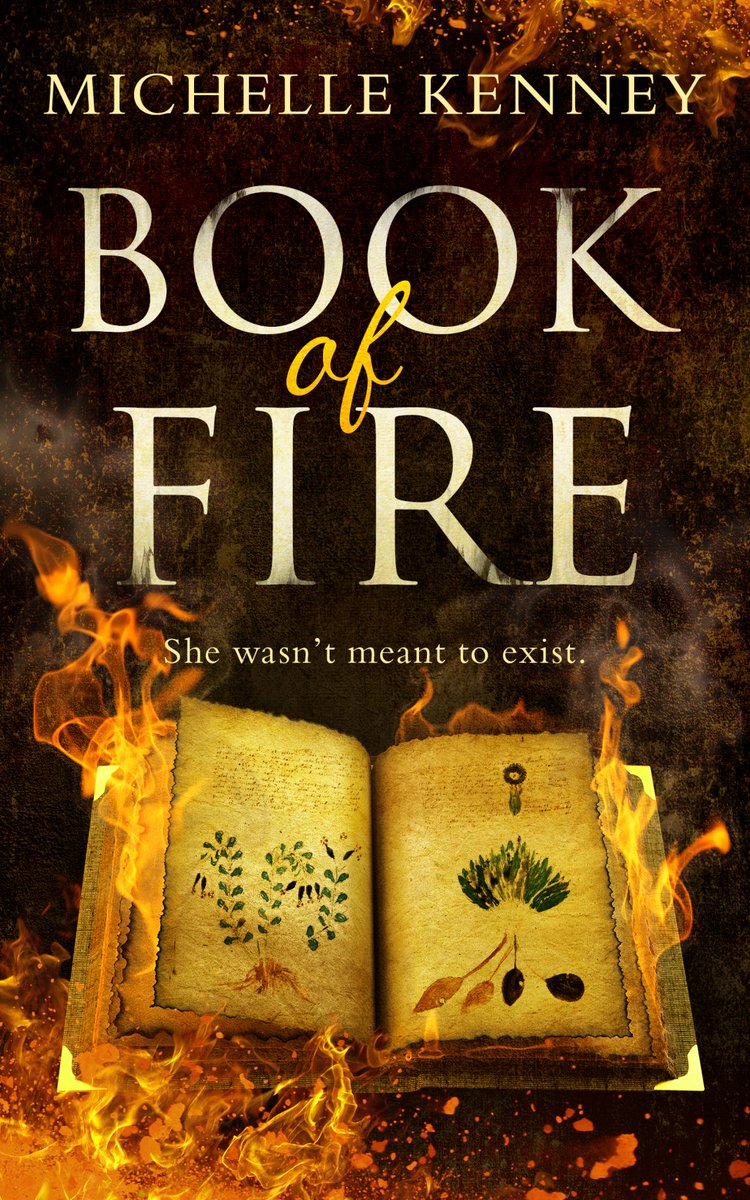 Book of Fire
Rating
: 5/5
Buy or Borrow
: BUY
Source
: Proof copy via HQ
Twins Eli and Talia shouldn't exist. They're Outsiders.
Their home is a secret. Their lives are a secret. Arafel is a secret.
An unexpected forest raid forces Talia into a desperate mission to rescue her family while protecting the sacred Book of Arafel from those who would use it as a weapon. As Talia and her life long friend Max enter the dome, she makes some unexpected discoveries, and allies, in the form of rugged Insider August, that will change the course of her life forever.
Before I start this review, I just want to thank the
lovely people
at HQ for sending me a proof copy. I had seen
lots of chat
about this book on my timeline and really wanted to give the book a go, as it sounded amazing and I wanted to get involved in all the bookish chat. I'd also spoke to the author, Michelle Kenney via email and Twitter, and she is just
so lovely
.
In a world "
obliterated
" by the Great War, there are now two groups of people:
Insiders
and
Outsiders
. The
privileged
and the
survivors
. The Insiders live inside the LifeDome where they are never to leave the domes because everything they
need to survive is inside
. The Outsiders live outside the domes and forage for food, build their own future and have their
own freedom
.
There is one thing the Outsiders have that the Insiders are desperate for:
The Book of Fire
. And they will stop at
nothing
to retrieve it.
The story focuses on our female protagonist, Talia. Talia is an Outsider and lives in Arafel. At the beginning of our story, we discover Talia's Grandpa is the
current guardian
of the ancient Book of Fire and he passes it down to Talia; something that puts her in a lot of danger and she is told she must
protect it with her life
.
Talia is always so careful, so when she's
captured
, alongside her brother Eli and her Grandpa, her world is turned
upside down
. It does a complete 360 when she meets our brooding Roman knight,
August
.
Let us just pause the review right there
.
August.
August, August, August.
Who remembers how hard and fast I fell for Warden, from T
he Bone Season
series? Well, August is one of those characters. He is full of
sass, charisma
and
sarcasm
, as well as being a
tall, gorgeous, Roman knight
. Could he
be
any more perfect? I'll be honest, I was asked after if I was Team August or Team Max and I wanted to reply:
Max, who
? If August were to be sorted into a Harry Potter house, he would most definitely be Slytherin. He
oozes arrogance
in a way that will
charm you right to the core
. He is flawed, his loyalties are tested but there's a certain scene in the arena, where your heart will be overflowing with love and pride for him.
*cough*
Anyway, August loving aside...
August tells Talia he wants to help her but Talia is un-trusting and when she discovers what's
really
happening on the Inside, she believes she was right in not trusting him. She finds out that the Insiders have been trying to
genetically engineer creatures
and humans, and the ones that are deemed inferior, are tossed aside and have formed their own
underground society
. A society that is
vengeful
and ready to help Talia change the Inside forever, in any way they can.
There are cyclops, Cerberus, griffins, manticores...every mythological creature you've ever deemed awesome? This book contains it and it's
all wound beautifully into this chaotic, dystopian world
.
This book is a
sensational opening
to the series and I'm so excited to see what's in store for our characters next. I tweeted that this book reminded me of
The Bone Season
and
Percy Jackson
, and I most definitely stick by that. The story isn't remotely similar to
The Bone Season
but the way the characters are written, and the way you connect to them on such a deep level, is exactly the same. I
adored
this book and it's out now...so
go and download it
!
Are you an Insider or an Outsider? Team August or Team Max? Let me know in the comments below if you've read this book!